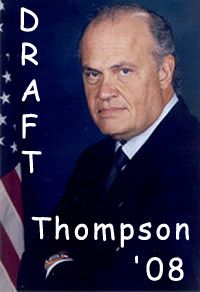 Now normally I wouldn't post this (as with all the other FDT montages popping up on YouTube) because they are all done to country songs. I know lots of people dig it, but country music is like nails on a chalkboard to me. I love the effort and idea behind these videos, but the reality of having to listen is really more than I can bear. I'm a North-Eastern Yankee, so what's a gal to do...
But, I am linking it because I've noticed that the very first (and terrible) Draft Thompson '08 picture that I made late one night in 2005 is cropping up everywhere on YouTube and MySpace (it's in this too). People, I've made
tons
of other ones since that sleepless night. Better ones I hope... LOL
Now who is going to make the metal/hard rock call to arms for FDT?