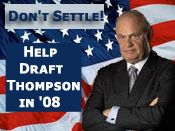 Already issuing pre-emptive statements --The first concrete sign the DNC is getting nervous about all the "Draft Thompson" talk?:
"On Monday, as speculation intensified over a possible Thompson bid for the Republican presidential nomination, the Tennessee Democratic Party issued a press release saying Thompson is no longer a registered voter in the state.
Thompson, of course, would have no problem re-establishing himself as a resident of Tennessee - which would presumably be preferable over the Washington area in a presidential bid. He was a U.S. senator from Tennessee 1995-2003, grew up in Lawrenceburg, graduated from then-Memphis State University, earned his law degree at Vanderbilt University and practiced law in Nashville for decades." (
source
)
There are many left-of-center voters that would pull the lever for Thompson and I think that realization just made its way into the DNC headquarters...